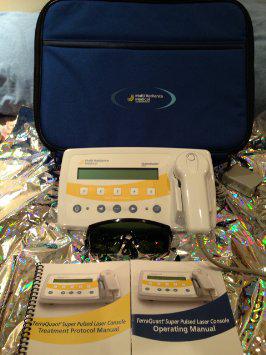 The TerraQuant Pro Package
Our Pro package is the most popular TerraQuant package with a seperate emitter and controller. The package has more power, flexibility and a future upgrade path when compared to the TQ Solo. This comprehensive package is a full turnkey system that allows you to start treating patients immediately.
The system include a standard SE25 (25,000mW) emitter. The TerraQuant console will support a second emitter (dual ports) and it is also compatible with optional higher power LS50 emitters so you can upgrade in the future. The SE25 emitter is threaded to allow the use of optional probes for special applications like acupuncture and muscle triggering.
Because the TerraQuant Pro pulses the laser at super-high speeds, it delivers professional level results safely without the requirements for a license or prescription. The European version of this product is the TerraQuant mq2000.
The TerraQuant Pro Package Includes:
TerraQuant Console With Dual Output Ports
SE25 Standard Emitter (25,000mW) with:
4 cm^2 Treatment Area
1 GaA Super-Pulsed Laser
4 Infrared Emitting Diodes
4 Red Light Emitting Diodes
2-pair of Green Laser Safety Goggles
Soft Sided Case
Operating Manual & User's Guide
Protocol Manual
2 Year Limited Warranty