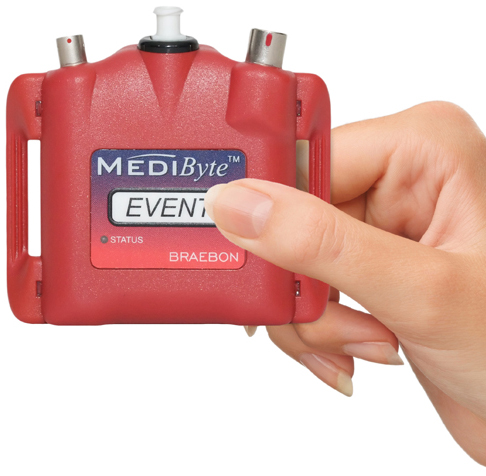 MediByte
The Easy Home Sleep Test
It's that small
The world's smallest level 2/3 recorder packs the quality of a sleep laboratory in the palm of your hand. The MediByte is just 2.5 x 2.25 x 0.75 inches (66 x 60 x 19mm) and weighs in at just 3.3 ounces (93g).
Designed for ease of use
Each element has been designed to maximize patient comfort and simplify the entire home sleep testing process.
Built right in
With sensors for body position, pulse oximetry and a pressure transducer built into the recorder, there's less to hook up.
Unique connectors
Each sensor connects differently, which greatly simplifies the hook-up process.
Locked in place
Connectors that lock tight means sensor data is captured every time.
Designed to simplify interpretation
Clean, concise and easy to read. Every report designed to make it easy to find information quickly.